DIY Loft bed for boy's room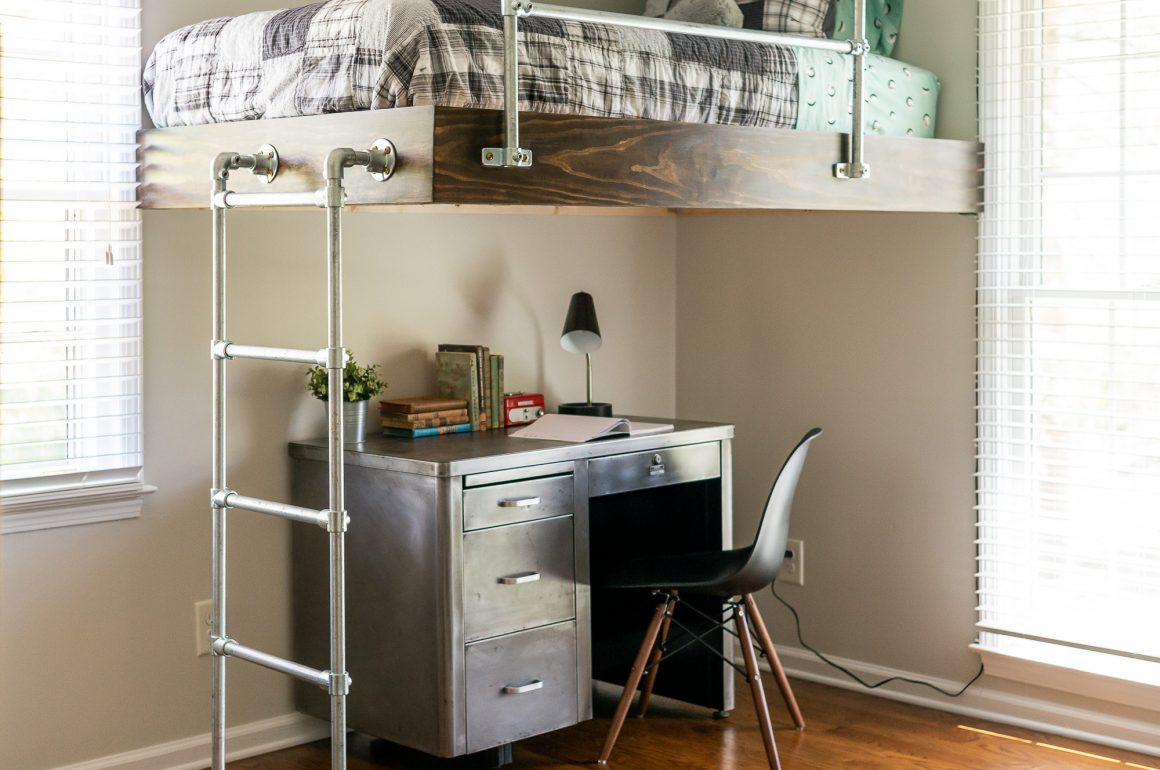 Last Updated on April 18, 2021 by Tim Harman
This post shows how I built a DIY loft bed for my son's room. It utilizes basic framing and structural pipe fittings for support.
We recently moved our son into his own room. It's the smaller of our three bedrooms, so we decided a loft bed would be nice to maximize the space. Underneath the bed makes for the perfect desk location (you can check out the desk refinishing project HERE.) I really like the clean look of a suspended or floating loft bed, so I started my search for inspiration with that in mind. I thought of supporting the bed from the ceiling, but honestly didn't want to mess with ceiling joists. I think if I'd done that, I would've distributed the load to several joists for added strength. That'd involve getting in the attic and tying a few joist together. Yeah, no thanks.
The only place that a loft bed would fit was the corner of the room in between the windows. I was concerned that I wouldn't have enough room with where the windows are, but ended up having enough room for a standard twin bed.
Here's the space before:
I knew I'd be securing two sides of the bed frame (2x6s) into the wall studs, so I just needed to figure out a support for the corner. I wanted a really clean look, so I thought the ladder could also serve as the structural support; that way I wouldn't have a post and a ladder.
Here's the frame in place being held up with temp 2x4s until the permanent support was added:
*this post contains ads and/or affiliate links
I used these amazing structural screws made by GRK.  (5/16″ x 4″) to attach the two 2×6 ledger boards into the wall studs.  I will never go back to regular lag bolts.  Man, I love these screws.  They don't really need to be pre-drilled, but I did anyways just in case I wasn't exactly in the center of the wall stud.
You'll also notice my magnetic stud finder on the wall there. My thoughtful sister-in-law got it for me and it's the best stud finder I've ever used. No lights, no beeping. Forget all that. It's just a really strong magnet that'll latch onto your drywall screws. It's perfect. It even has a little level with an arrow so you can visually find your line for the stud further up/down. Get one!
Once I had the two ledger boards in place, I added the front and end 2x6s to complete the frame. I used corner braces to create a really good joint between the 2×6. Next came the 2×4 support joists held in place with joist hangers.
Here are a few images showing the underside detail:
I used these Simpson Strong Tie wafer head screws to secure the joist hangers and corner braces.
I topped the frame with sturdy 1/2″ furniture-grade plywood. I also faced the outside with a nice stained trim piece, mitered at the joint.
I looked into structural pipe fittings called Kee Klamps for another potential project and was very impressed with the product's versatility. However, I wasn't impressed at all by how expensive it is! As I was researching, I discovered that Lowe's sells the same fittings under the brand name SteelTek for way less than the real-deal Kee Klamps. Heck. Yes. Thus, my decision to use structural pipe fittings as both the support and ladder. These fittings are the best. It's the perfect minimalist yet rugged look for a boy's room. Super strong.
I used the same fittings and pipe for the bed rail. My wife wanted to leave some room towards the head of the bed to give more room when changing the sheets. Looking back, I think I should've made it longer, but I think it looks fine. It'd still be really difficult for him to roll off. He'd have to be rolled up in a ball near his pillow to roll and fall off. He'll be aight.
I added some blocking to the backside of the 2x6s where the fittings were secured. That way the structural screws (same ones I used to secure the ledger boards) wouldn't be sticking out the back. I could've got shorter ones, but I decided to use what I had on hand.
We got this great little wall lamp from IKEA to use as his reading light. The light this puts out is BRIGHT, so we cut the bottom of yogurt container (Chobani I think) off and shoved it up in there. Perfect diffuser! 🙂 I used some clips I had in my small parts collection to secure the wire to the window trim. I cut a small hole in the plywood to pass the wire through.
The book holder is actually an IKEA spice rack. Works great! My wife stained it to match the trim on the bed.
I love how this project turned out. And yes, it's amazingly strong. I weigh in at about 215lbs and got up there with my son. Held with zero issues. This thing will take all the abuse a boy (and his sisters) can throw at it.
If you have any questions, feel free to leave a comment below. Thanks for stopping by!
**UPDATE**
I created a basic materials and measurements list. Check it out HERE.
---
*This post contains ads and/or affiliate links. I may be compensated by advertisers. Read more here.
---